"
If you dream it, you can Dewey it!
"

–Dewey
Dewford Dingus "Dewey" Duck[1] is one of the nine main protagonists in DuckTales. He is the son of Della Duck and is the middle child of Donald's nephews.
Description
The second brother hatched and dealing with a classic middle-child syndrome, Dewey is always looking for ways to stand out from the crowd. Dubbed "The Guts," Dewey is quick to throw himself into dangerous situations without thinking, just to prove himself. Deep down he's worried that he's just an ordinary duck so he's constantly itching to make a name for himself. According to Webby, Dewey is 'sweet and sensitive and full of secrets'.
Personality
Dewey is the daring, attention-seeking adventurer of the trio. He loves to explore and do bold and exciting things to stand out, get noticed and have fun. Dewey can be impulsive; he can't sit still too long before jumping into action, often without thinking it through. Dewey desires to stand out as his own individual among his brothers, by trying to impress all those around him by doing big extraordinary things.
Dewey is shown to be compassionate, which shows when he stands up for Webby when everyone was hesitant in "Daytrip of Doom!" He offered to save Mark Beaks even after learning he was a fraud. Dewey can be sensitive; he is easily insulted as seen in "The Infernal Internship of Mark Beaks!" when Huey admits to thinking of Dewey as irresponsible and not serious enough to be successful. This shows that Dewey is also a bit insecure. Dewey is also very emotionally attached to his mission to learn about his long-lost mother, Della. to a point that he wants to learn more about her but is afraid of what the answers may be as shown in "The Spear of Selene!". Dewey is so eager to know what happens to his mother that he is willing to risk his own life just to know the truth of his mother he never knew, as shown in "The Last Crash of the Sunchaser!".
In "The Secret(s) of Castle McDuck!", Dewey claims that his brothers will be hurt if they find out about their mother, similar to he was, though his brothers believe he just wanted to feel special. Confronted, Dewey realizes he has been wrong for doing this.
With his ambitious and quick-thinking personality, Dewey wants to prove himself. And sees himself becoming big like his Great-Uncle Scrooge, he is eager to show his skills in their adventures. Dewey tends to remind Donald and Scrooge of his mother.
Appearance
Dewey is a small preteen duck who wears a light blue long-sleeved shirt underneath a blue t-shirt and generally styles his hair to stick upward.
Merchandise
The official merchandise for Dewey includes Figurines, T-shirts, Plushies, and action figures. Most of the official merchandise has been released after the 2017 reboot of the show. A full list of all the current official Dewey merchandise is available here.
Skills and Abilities
Dewey may not be as analytical as Huey, or as cunning as Louie, but Dewey is the most fearless and daring of the three.
Quick thinker: Dewey's greatest strength can be seen in his bravery, yet he is also a quick thinker. Although sometimes his plans are not always thought through enough to work, but through the events of "Woo-oo!" he has learned to be more observant and a better problem-solver, which has improved his skills as an explorer.
Genius Level Intelligence: Dewey and his brothers have high intelligence and also have excellent treasure hunting skills. Huey, Dewey and Louie also have excellent detective skills.
Skillful fighter: Dewey is the most physically able of Donald's three nephews, even though he doesn't have adequate training like Webby.
Mini Golf Master:
DJ:
Good in most sports: Dewey claims that "all the sports" are his favorite.
Piloting skills:
Dance:
Surfing: In 30 Things With Dewey he claims to know how to surf. This claim was refuted in Moonvasion!
Artistics ability:
Unison voice: Ability to speak at the same time. The triplets do this - albeit unintentionally in "The Beagle Birthday Massacre!".
Hair Stylist: Dewey was an expert in creating hairstyles in the Quack Pack! when he made a Mohawk cut on himself and Donald, or in The Rumble for Ragnarok! when he replicated his favorite band's haircut on himself.
Blind Sensory Fighter: In "The Split Sword of Swanstantine!",
Relationships
Dewey Duck (2017)/Relationships
Videos
Promos
Gallery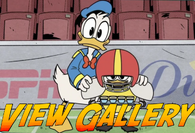 Click here to view this page's gallery.
Appearances
Trivia
Dewey is the only main character to appear in every episode of season 1, though he did not speak in "Who is Gizmoduck?!." He was absent in 5 episodes of season 2, though he had a cameo in "Happy Birthday, Doofus Drake!" and 3 episodes of season 3.
Dewey has appeared in the most amount of episodes in the series having been in 61 out of 69 episodes, two episodes ahead of Scrooge.
In the Quack Pack series, his full name was Deuteronomy Duck. Here it's changed to Dewford. Series co-developer Frank Angones jokingly said that they changed the name because it's easier for Donald to pronounce.
Dewey has been known to have a liking of cats, as shown in the Dewey Dew-Night! short "Bedtime" where he has a pet kitten, and in "The House of the Lucky Gander!", he temporarily gets a jade green pet tiger he names "Dewey Jr".
His name was incorrectly spelled as 'Duford' in the comic book story "Happy, Happy Valley!", in which he jokingly gives his full name as 'Duford Ellsworth Waterford Ellemenopay Yastrzemski Duck'.
Della Duck, his mom, was originally going to name him Turbo. Which Dewey got upset about as he would have preferred Turbo over his real name.
According to "Louie's Eleven!", Dewey's favorite band is the Feather Weights. In fact, his hairstyle is even based on Kat, the lead singer of the band itself.
In "Quack Pack!" and "The Rumble for Ragnarok!", it's revealed that Dewey fears people disliking him.
In "The Lost Cargo of Kit Cloudkicker!", Dewey accepts that he's good at flying planes, thus wanting to be a pilot in the future.
References
↑ According to Raiders Of The Doomsday Vault, Dewey's middle name is "Dingus."