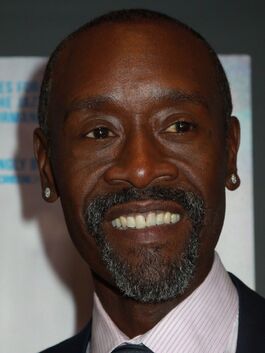 Donald Frank Cheadle Jr., also by his stage name Don Cheadle (born November 29, 1964), is an American actor, writer, film producer, and director. He is best known for his role as James "Rhodey" Rhodes/War Machine/Iron Patriot in the Marvel Cinematic Universe, starring in Marvel films such as Iron Man 2 (2010; replacing Terrence Howard), Iron Man 3 (2013), Avengers: Age of Ultron (2015), Captain America: Civil War (2016), Avengers: Infinity War (2018) and Avengers: Endgame (2019).
He provides the telligible voice of Donald Duck in The Shadow War!, the Season 1 finale of the DuckTales reboot as well as the 2nd episode of the third season Quack Pack!.
Character gallery
Appearances
Trivia
External links
Community content is available under
CC-BY-SA
unless otherwise noted.