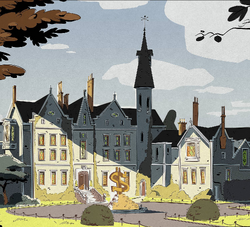 McDuck Manor is the mansion home of Scrooge McDuck in Duckburg, as seen in the 2017 series.
Background
Scrooge, along with his great-nephews Huey, Dewey, and Louie, his niece Della, his pilot and limousine driver Launchpad, his ghost butler Duckworth, his housekeeper Beakley and her granddaughter Webby all currently reside in the mansion together. Scrooge's nephew Donald also resides on the land of McDuck Manor, but he spends most of his time in his houseboat, stationed in the mansion's pool (though he still tends to participate in most of the family's activities and adventures).
The mansion gets more than its share of damage, due to the fact that some of the adventures even take place in or around it.
Community content is available under
CC-BY-SA
unless otherwise noted.