Michael Peraza is an American animator, who has been involved in several Disney productions since the early 1980s.
During the pre-production of the original DuckTales, Pereza was hired as a key layout stylist for the series, creating concept arts and laying the foundation of the show's artistic design.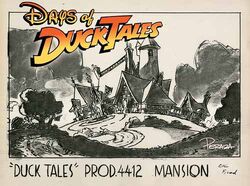 Pereza was one of few people involved in DuckTales that actually met up with Carl Barks, of which Pereza conciders himself a big fan, sharing his ideas and concept design.
For "DuckTales the Movie: Treasure of the Lost Lamp", Peraza served as animator, and during production of the videogame "DuckTales Remastered" Peraza was contacted by the game's production team, and asked to share some of his original drawings as inspiration for the game.
Additionally, Peraza has also been involved in the reboot series, credited as storyboard artist for "Treasure of the Found Lamp!". He also draw the illustrations that was shown during the closing credits of the episode "Last Christmas!", using the same style as used for his work on "Mickey's Christmas Story" in 1983.
External links
Community content is available under
CC-BY-SA
unless otherwise noted.