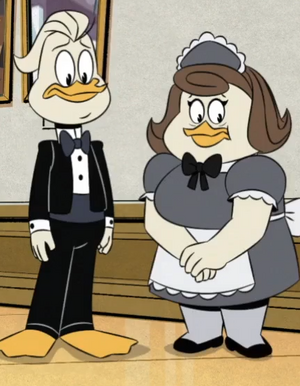 Mr. Drake
(credited as
Butler
and voiced by
Yuri Lowenthal
) and
Mrs. Drake
(credited as
Maid
and
Doofus' Mom
and voiced by
Tara Platt
) are the parents of
Doofus Drake
in
DuckTales
.
History
In "Day of the Only Child!", Mr. and Mrs. Drake are seen working for their tyrannical son. They later reveal to Louie that Doofus, after inheriting a fortune from his grandmother Francis, went mad with power and enslaved them.
In "Happy Birthday, Doofus Drake!", the pair are forced to wait on the guests at Doofus' birthday party, and introduce Doofus when he makes his appearance. During the party, Doofus refers to his grandmother as "the only parent I've ever known"; his father questions the hurtful comment, only for his wife to allude to some known reason for their son's disdain for him. Mr. Drake is later knocked off of Doofus' treehouse, and takes the elevator to get back up, only to flee when B.O.Y.D. is unleashed on Louie by Doofus.
Later, Louie adjusts B.O.Y.D.'s programming so that he regards Mr. and Mrs. Drake as his parents, and the pair quickly embrace the kindly young android. Their newfound affection for B.O.Y.D. prompts the pair to stand up to an irate Doofus at long last. When B.O.Y.D. then acquires half the money Francis left to Doofus, Doofus' stranglehold on his family is broken, much to the relief of his parents.
In "Moonvasion!", Mr. and Mrs. Drake are seen being menaced by the Moonlanders along with Doofus and B.O.Y.D. In "Challenge of the Senior Junior Woodchucks!", the two are present at a Junior Woodchucks meeting, with their sons taking part as members of the group.
Appearances
Gallery

Click here to view this page's gallery.
Trivia
Community content is available under
CC-BY-SA
unless otherwise noted.