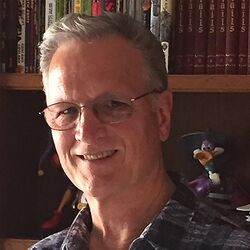 Tad Stones is an animator, screenwriter, producer, storyboard artist, and director best known for his work for The Walt Disney Company, where he worked from 1974 to 2003. His most notable credits for Disney include creating, writing, and producing the animated series "Darkwing Duck". He voices Tad in The Duck Knight Returns!.
During the pre-production of the second season of the 1987 DuckTales series, Stones pitched three potential new characters to be added to the show; Astroduck, Roboduck (inspired by 1987 action movie RoboCop), and Bubbaduck. Astroduck was nixed, but both Roboduck and Bubbaduck made it to the series, albeit modified, as Gizmoduck and Bubba Duck. Gizmoduck would also reappear in "Darkwing Duck".
Character gallery
Appearances
External links
Community content is available under
CC-BY-SA
unless otherwise noted.