Hi, I'm a content moderator for the DuckTales Wiki!
Feel free to use my Message Wall to ask questions or bring up any issues - I'll be glad to help!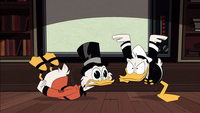 About me
I'm just your average liker of cartoons really, But when I started getting more adapted to the wiki fandoms and the info they're known to provide to millions of fans out there for better understanding, I figure why not just go along with it myself. I'll admit, I'm a little picky as to the type of articles I feel like editing, but it's not to say that I don't edit all around either, especially when spotting a grammar error or missing information. I'm mostly a summary editor, so either I create a summary for an episode, or I try to sum up certain events for a character based on their personalities, history or relationships.
Favorite episodes
(no particular order)
Summaries/synopsis/plots I've created
Character's I've mostly written for
Season 3 hints
I've been checking around the media for Ducktales lately and have been noticing some hints being left for us here and there with season 3 of Ducktales, so I'm just gonna leave them here on my page to theorize for myself and anyone who visits this.
- It is hinted that just like Dewey for season 1 and Louie for season 2, Huey will have the prominent role for season 3 in his possible quest for researching more into the F.O.W.L. criminal organization
- Characters including the Talespin crew, Wuzzles crew, Rescue Rangers crew, and more from the Darkwing Duck crew will be seen in this new season
- This is just my own theory, but I think the planned replacement Owlson mentioned to Louie after she gave him her 2 week notice will be Steelbeak
- Not all F.O.W.L. agents have been revealed yet, we're likely to see who else is an agent among them and who is also currently working for S.H.U.S.H.
- F.O.W.L. has been plotting something for a very long time
- Donald's biggest challenge this season will be love
- Someone will die this season
- We will meet new members of the Duck/McDuck/Coot family
- Ludwig had made one big mistake that may lead to some big conflict
- The board of directors' history will be shown, and exactly what it is they've been doing for so long
- Fenton is currently working on something big